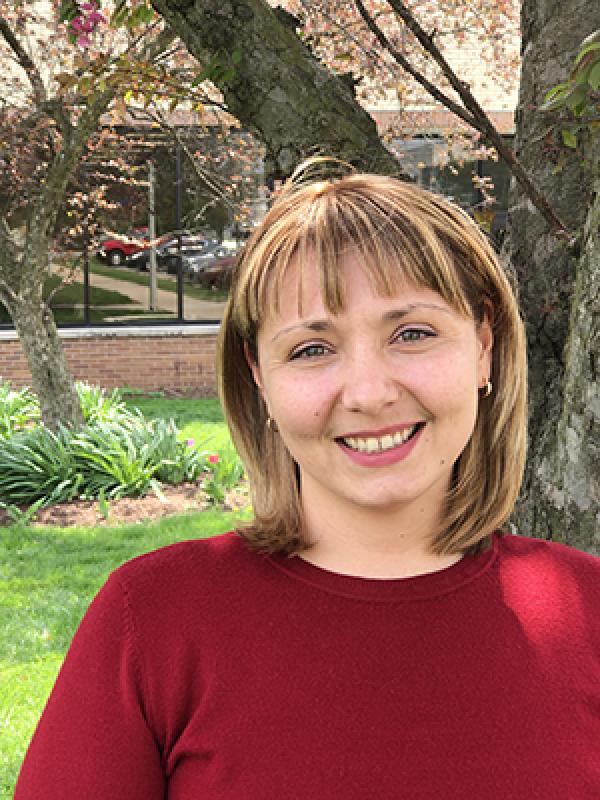 Natalia Molotievskiy
Visiting scholar
C. A. Triplehorn Insect Collection, 1210 Museum of Biological Diversity
1315 Kinnear Road
Columbus, OH 43212-1157
Areas of Expertise
Insect Systematics
Curculionoidea
Ecology
Biogeography
Biography
---
Natalia Munteanu Molotievskiy is an Entomologist, her research focuses on systematics, ecology and biogeography, with emphasis on Curculionoidea (Coleoptera) using both traditional morphological and molecular techniques. Her interests cover phylogenetic reconstruction and, also, microevolutionary processes at the crossroads of the biogeographic regions. She is involved in studying biodiversity conservation and assessment of human impact on insect communities. Also, she investigates microbial control methods for insect pests to be used in sustainable cropping systems.
---
Publications 
Musetti, L, Molotievskiy, NM, Johnson, NF (2019) Beetle Heritage: Cataloguing the Primary Types of Coleoptera in the C. A. Triplehorn Insect Collection. The Coleopterists Bulletin, 73(3), 561-590.
Munteanu Molotievskiy N, Moldovan A, Bacal S, Toderas I (2016) Beetle population structure at the crossroads of biogeographic regions in Eastern Europe: The case of Tatianaerhynchites aequatus (Coleoptera: Rhynchitidae). North-Western Journal of Zoology 12(1), p. 166-177.
Munteanu (Molotievskiy) NV, Danismazoglu M, Moldovan AI, Toderas IK, Nalcacioglu R, Demirbag Z (2014) The first study on bacterial flora of pest beetles Sciaphobus squalidus, Tatianaerhynchites aequatus and Byctiscus betulae in the Republic of Moldova. Biologia 69(5), p. 681-690. ISSN: 0006-3088. doi: 10.2478/s11756-014-0351-2.
Munteanu (Molotievskiy) NV, Mitkovets PV, Mitina GV, Movila A, Tokarev YS, Leclerquec A (2014) Prevalence of Beauveria pseudobassiana among entomopathogenic fungi isolated from the hard tick, Ixodes ricinus. Ticks and Tick-borne Diseases 5, p. 641-648. doi.org/10.1016/j.ttbdis. 2014.04.015
Munteanu (Molotievskiy) N, Moldovan A, Bacal S, Toderas I (2014) Alien Beetle Species in the Republic of Moldova: A Review of Their Origin and Main Impact. Russian Journal of Biological Invasions 5(2), p. 115-123. doi: 10.1134/S2075111714020076.
Munteanu N, Bacal S, Moldovan A, Malevanciuc N, Toderas I (2014) Beetle Communities of Alfalfa (Medicago sativa L.) in the Republic of Moldova. APCBEE Procedia 8, p. 21-26. doi:10.1016/j.apcbee.2014.01.074.
Bacal S, Munteanu (Molotievskiy) N, Toderas I (2013) Checklist of beetles (Insecta: Coleoptera) of the Republic of Moldova. Brukenthal Acta Musei Nr. VIII. 3. p. 415-450.
People Filters: